ANGELA KAISERS
ABOUT
In her artworks Angela Kaisers reflects on people's behavior within structures of power and in situations of emotional conflict. She looks at past historical events and current incidents alike, exposes recurring constellations and patterns and discusses how we subjectively distribute and perceive such notions. How collective memory is created and develops over time and how easily it can be manipulated; how the conscious present is configured and in which ways it can be and is being reprogrammed.

The creative process or method of production of Angela's works includes researching biographies and events, accumulating image material, twisting and manipulating her finds, turning them into new schemes and storylines that question what we comfortably have taken for granted. To visually and aesthetically support her observations she employs highly charged techniques, like embroidery and photography, to translate her stories into works of art.
Angela Kaisers
studied Fine Arts with emphasis in photography in San Francisco and Amsterdam (B.F.A, Gerrit Rietveld Academie) and Art in Context in Berlin (M.A., University of the Arts Berlin).
Her work has been shown in Berlin and throughout Europe (e.g. Amsterdam, Prague, Madrid); she has curated exhibitions in Berlin and Budapest.
She lives and works in Berlin.
© Angela Kaisers 2018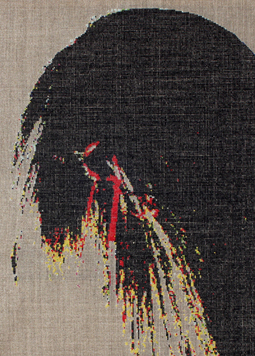 PLEASE VISIT MY NEW WEBSITE


https://angelakaisers.art